Fishing Guides for the Branson, MO, Area
The best way to have a great fishing experience is to rely on professional fishing guides. Guides have the fishing expertise to help you use appropriate technique and equipment as well as key local knowledge of where and how to fish.
For a relaxing day in the Branson, MO, area, call on Captain Bruce and Payable Guide Service. We ensure that you catch trout and have the opportunity to relax.
We take patrons fishing at Lake Taneycomo, Table Rock Lake, and Bull Shoals Lake. Our focus is fishing for trout on Lake Taneycomo, and we even offer you a guarantee. If you don't catch a fish when we go trout-fishing on Lake Taneycomo, then you don't pay.
Our fishing trips are designed to facilitate relaxation. You won't spend a lot of time casting. Our boats troll in deep water, including in heavy currents. All you have to do is sit back and wait for the fish to bite.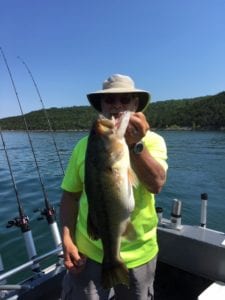 Captain Bruce is a Vietnam War veteran who has fished for over 50 years in the Great Lakes and across the Midwest and Mid-South. He has a U.S. Coast Guard Mariner's license, and he's served as a board member of various fishing charter organizations. You'd be hard-pressed to find a more experienced fishing guide.
When you have the benefit of our decades of experience, you don't need to have fished before. You can have a great time, catch fish, and relax even if you've never been fishing before. Our guided fishing outings are perfect for personal staycations, family vacations, honeymoons, and work outings. We can accommodate everyone from novices to seasoned fishing regulars.
Plan your personal retreat or family outing today. Just contact Payable Guide Service by calling (417) 920-4030. We're happy to create the experience best suited to your personality, goals, and group.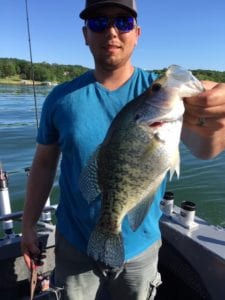 Payable Guide Service continues to build an extensive network of contacts to stay in tune with, when, and where fish are biting. These trips are informative as we share out techniques and secrets. We have a lot of fun and catch fish too!

Our fishing trips include an assortment of fishing locations and styles.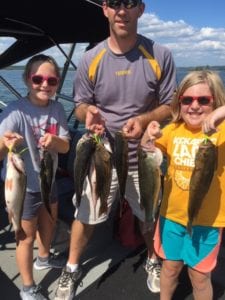 Guarantee Fish Catch
Trips and pricing are based on your needs and time of year. Call for further information: (417) 920-4030
Bull Shoals or Table Rock Lake Deep Trolling
On these trips we set 8 to 10 lines off very large planer boards. Casting skills are not required. Deep Trolling is one of the very best ways to catch a trophy fish. The fish hits and you land it across the boats transom. You are subject to catch Trout, Walleye, Bass, Crappie, White Bass and even Strippers on these trips. They are fun and anyone can enjoy the trip. Bring your food, drink and family or friends and sit back and enjoy.
Trips and pricing are based on your needs and time of year. Call for further information: (417) 920-4030
Call Capt. Bruce to book your specific trip!!
Starting times can be arranged.
Special Tours of all the lakes may be arranged upon request.
Fish cleaning provided on all tours.
Please call us at (417) 920-4030